Residential Addiction Treatment Program
De Novo's
35-day Residential Addiction Treatment Program is focused on treating individuals with problem substance use/abuse. All of our programs are accredited and use up-to-date evidence-based practices. Treatment is overseen by an interdisciplinary team of psychotherapists and certified alcohol and drug counsellors.
Our addiction treatment programming is based on the belief that sobriety, which is defined as freedom from all mood-altering substances, is the goal of treatment. De Novo is an abstinence-based treatment program; we promote this belief through a 12-Step approach to recovery combined with modules to enhance life-skills as well as spiritual, mental, physical, and emotional health.
Our program incorporates other modern treatment modalities such as Cognitive Behavioural Therapy, solution-focused therapy, person-centered therapy, and the Stages of Change model as a framework for clients to work through during their stay. Individuals participating in the treatment program are provided with regular educational groups, relapse prevention tools, and one-on-one counselling sessions with our qualified clinicians.
Upon completion of the program, clients are
encouraged to continue participating in forms of continuing care which could include aftercare programs, 12 Step programs, and additional or ongoing counselling supports.
Give us a call to learn more.
Happy Clients
---
These are some success stories about the programs at De Novo Treatment Centre.
Read
"My stay at De Novo was good. I felt at home soon upon arrival. Friendships were made with staff, counsellors, and peers immediately. I was given time to adjust to my new surroundings and felt no pressure to participate right away. The counselor appointed to me was perfect. He was well trained and educated in the field of recovery and we soon become good friends. My one-on-one meetings were excellent. The room assigned to me was comfortable and perfectly situated as I have an ongoing health condition. When I became sick, I was taken to a doctor and later a hospital. My experience at De Novo was good and I am happily on the road to recovery."
Read
"I was working in Esterven, Saskatchewan for a company when my life became unmanageable. I was missing a lot of work and I realized that my drinking was robbing me of my future. I was broke, I had hurt my family and I was living on the floor of a laundry room. I drove myself to the hospital. I had depression, negative thoughts and by body was shaking. I hadn't eaten food in days. While I was at the hospital, a kind Nurse reminded me that I could have help if I wanted it by calling my Union.
I called my BA from local 721 and he told me that there was a place I could call that would help me. I drove for four days, through storms, tornados, flying hay and big winds with ice from Saskatchewan to a place called De Novo Treatment Centre. I arrived at De Novo early in the morning scared, feeling angry, exhausted, and hungry, not knowing what would happen or what De Novo would be like. I arrived looking for steel bars on windows and looking for anyone that I might need to fight. Instead, I was greeted with a big smile by De Novo staff, and I was reassured that everything would be alright. I was welcomed into the De Novo community with open arms of staff and co-clients. De Novo provided a comfortable, friendly, and caring atmosphere. De Novo helped me build confidence in myself, opened my eyes, and gave me the tools I needed to help myself. The more effort I put into the program, the more I was benefiting from it. What I didn't realize, was that the more I helped myself, the more I was helping others. I gained respect, dignity, honor, and trust. I had mixed emotions and reservations about the program and the people here, but I soon realized that De Novo understood and that I was no longer alone. I am thankful that De Novo helped me regain faith in my Higher Power and in myself."
Read
"De Novo calls us to sanity, a sanctuary from the madness of  alcohol and addiction. De Novo teaches us to be real and whole, not fragmented with lies and hidden secrets of shame and unworthiness. De Novo offers us wisdom; the serenity to accept what we cannot change and the courage to change what we can. De Novo feeds us, nurturing our bodies and souls, emotions, and minds. De Novo offers us freedom to express our hidden fears and hurts, and to bring to light, the love that will surface once barriers and blocks are removed. De Novo sends us out, equipped with the knowledge of a higher power, 12 steps, AA brothers and sisters and tools to get better, stay better and help others to do the same."
De Novo
De Novo Entry
Living Entrance
Office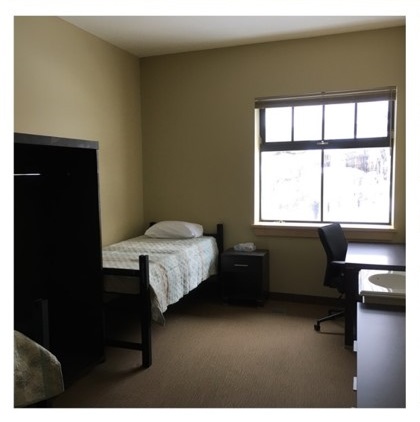 Bedroom
Lounge
Fitness
Dining
Garden